Vegas Top 10.... Top 10 Vegas... Vegas Top 10.... Top 10 Vegas...
---
Top 10 Things to Do in Vegas when you want to do things...
1. Bellagio Fountains

People stare at lots of free shows outside the hotels, but there's only one worth going to: the

Bellagio fountains

. Every half-hour between 3 p.m. and 8 p.m., and every 15 minutes from then 'til midnight

2. Cirque du Soleil

The Cirque hires former Olympic gymnasts to catapult themselves all over the stage, risking their lives in outlandish costumes just for your amusement. I was in the Cirque offices once, and saw several people enter on crutches or in casts to collect their checks.


---

4. Buffets...Buffets...Buffets



Top 10 Vegas Buffets
1. Bellagio
2. Rio
3. Wicked Spoon
4. M Resort
5. TI
6. Wynn
7. The Main St. Station
8. Palms
9. MGM
10. The Florida Cafe'


---

---

7. New York-New York Roller Coaster

It's not the wildest roller coaster in existence, but this one goes right through the New York-New York hotel and takes only a few minutes. The hotel is worth seeing for its brilliantly compressed version of Disneyfied Manhattan, and the roller coaster is a better way to tour it than walking through.




---

5. Shark Reef Aquarium

It's half-outdoors, half-indoors, with rays, sea turtles, crocodiles, lots of sharks and, as of recently, a komodo dragon. FYI, If you're staying at the Mandalay Bay, you can turn to the Shark Reef channel and watch sharks live 24 hours a day on TV.


---

8. Pool Parties

---

3. Designer Dinner





Top 10 Vegas Restaurants
1. Alize (French)
2. TWIST (French)
3. Il Mulino New York (Italian)
4. Joel Robuchon (French)
5. André's at the Monte Carlo (French)
6. L'Atelier de Joel Robuchon (French)
7. Foundation Room (Fusion)
8. Mix (French)
9. Craftsteak (Steak)
10.Sushi Roku (Sushi)


---

---

6. The Clubs...

Top 10 Vegas Clubs


1. LAX
702-262-4529
2. The Bank
3600 Las Vegas Blvd. South, Las Vegas, NV 89109; 702-693-8300
3. Tao Nightclub
702-388-8338
4. Tabú
702-891-7183
5. Pure
702-731-7873
6. Cathouse
702-262-4228
7. Spearmint Rhino
796-3600
8. Crazy Horse Too
702-382-8003
9. Marquee
(702) 333-9000

10. Lavo
(702) 791-1800


---
9. Spa (AaAaHhhhhh)

Top 10 Vegas Spas

Canyon Ranch Spa at the Venetian
Qua Baths & Spa at Caesars Palace
Spa Bellagio
Spa Mandalay
The Spa at The Mirage
Paris Spa by Mandara in Las Vegas
The Grand Spa at The MGM
Oleksandra Spa & Salon at Treasure Island
The Spa at Wynn Las Vegas


10. Downtown (Old Las Vegas)

The city's first step in sprucing up downtown is the the sort-of-cool

Fremont Street Experience

, where parents bring their kids to watch the outdoor mall's ceiling tell little vignettes in laser lights, like a Western Stone Mountain. Then they give blood for slot machine money.

---
---
What's Your Fancy?!? What's Your Vice?!? What's Your Pleasure?!?
---
Shows?

Get your Vegas show tickets to great entertainment from the wonders of Cirque du Soleil to amazing concerts by Celine Dion, Elton John, Shania Twain and other amazing performers. Las Vegas has something for everyone including magic shows, comedy shows, production shows, musicals, adult shows and more. All the stars of a star-struck town. Whether it's the latest Cirque show, an established star or the next big thing, one thing is certain: They're playing Vegas. Get your tickets

here

.

---

---

Dining?

Las Vegas restaurants offer some of the best dining in the world. From 5-star French cuisine to casual and quick fare, Las Vegas dining options are endless! To find where to eat in Las Vegas; study the restaurant reviews in our dining guide. You can search by restaurant name, type of food, location or price range.

Be A Tourist?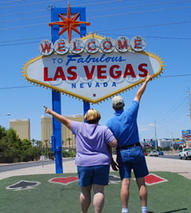 Visit mid-week.
Get a player's card.

Don't lose your shirt.
Don't play slot machines.
Tip the dealers $5/hr.
Ask for comps.
Use the buses. (Pay $7 for a 24-hour pass when you get on any bus, and then ride any bus in the city for free for the next 24 hours, including the Deuce and Strip/Downtown Express buses.)
Don't try to get taxis on the strip. (Taxis can't stop directly on the strip.)
Walk. (The whole strip is four miles long.)

Get Half-Price Show Tickets. (Just click here to get a jump on that.)
---
---
Copyright © 2012-2016 At Your Face L.L.C. All rights reserved.